Say Goodbye to North Sea Cod
This has been on the cards for decades, everyone has known about, and now the end for the North Sea Cod is nigh.
DOWN in the depths of the North Sea, changes are afoot. One hundred metres below the surface, you can still find haddock and plaice, and even the odd squid floating by. But search as you may down to the sandy ocean floor, there is one species you will be lucky to catch a glimpse of: the cod.

That most familiar of fish, whose flaky white flesh is a key ingredient of the traditional fish supper and whose liver oil has been revered by the health-conscious for generations, is, according to European researchers, close to extinction in the North Sea.

And, they say, the only way to prevent it dying out in our waters is to implement a complete ban on cod fishing off our shores.
Of course, the fishing industry has another reason, seals. Yup, seals are in a frenzy, herding cod into marine concentration camps in an effort to purify the marine racial mix and provide living space. Please...
Link
(Note: Link suggests some alternative fish to eat, which is short-sighted at best. We'll just consume all of those fish instead, widening the gill nets of destruction.)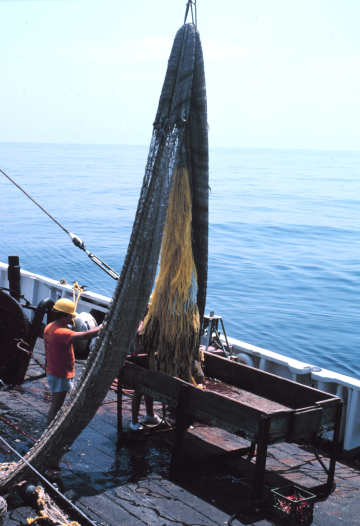 Labels: Say Goodbye to...