Campaign against Barclays still generates press
Yes, I know, relentless self-promotion:
In South Africa the fight is also against multinationals, some of which supported apartheid until its fall in 1994.

"It is not for us to pay the debts contracted by the racist regime. And as long as they are not cancelled and no reparations made, this country will not take off," say Anthony, Makoatsane, Tristen [of Jubilee SA]

For these survivors of apartheid as they call themselves, the hopes born in 1994 were rapidly confounded. Poverty, violence, Aids, public services in tatters and corruption at all levels – the "miracle" of the new South Africa left many in the lurch.

"At the beginning, the ANC was a people's party. But today, the leaders are all shareholders in big companies."

"The white bureaucrats have been replaced by black ones but the philosophy remains the same," stresses Anthony, who is very disappointed that his government has refused to press forth cancelling of the country's debts for fear of scaring off foreign investors....

Last year the movement fought against the takeover of ABSA, the South African bank, by the British group Barclays,

"We didn't want the profits going into the pockets of foreign shareholders," explains Tristen.

Through enormous demonstrations, Jubilee drew so much attention to the takeover that even the Johannesburg stock exchange trembled.

This forced ABSA to go on the offensive, conducting the largest publicity campaign the public had ever seen.
Link
I'm not exactly a survior of Apartheid (unwilling beneficiary, more like it), but you get the idea.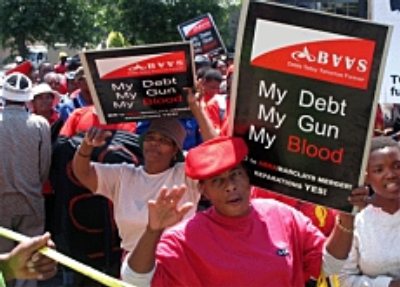 Labels: Activism