Linux, Definition, and, of course, Go
Yeah! Got a copy of Ubuntu 5.04 today. Gonna try and install it, hope to get the goddamn computer to recognised the goddamn modem, and then I can stop using the goddamn MS connection.
That is, if I can drag myself from the usual complement of weekend go and thesis. On the philosophy side, I'm building up an argument of cunning brilliance concerning the definition of the State, slowly working from the Montevideo Convention of 1933, a detour into the difference between government and the State, a dip into anthopology, then to Max Weber, Europe 1000AD, Bookchin and finally arriving at hierarchy. To be followed by posing exciting questions such as, "Is a church a State?", "Are empires States?"
On the go side, about two weeks ago I played a three dan on scratch, lost by eight points. Anyway, in the fuseki (see pic below), I don't know whether my move at Black 9 was right. Should I have attacked from the right? M3 or N3? If you have an idea, leave a comment.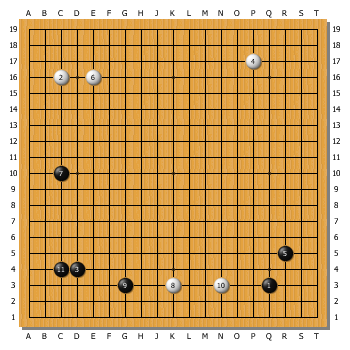 This is one of those freaky difficult direction of play thingymajigs. Hmmm.
Labels: Go